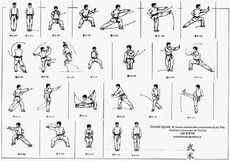 The 16-posture Form
 of 
Chang Quan
, (Chinese: 
长拳
; pinyin: 
Chángquán
), is the first Basic Form learned in the Chang Quan school of Modern Wushu.
In 2012 the International Wushu Federation created the third set of International Compulsary routines in order to help promote wushu to the world and standardize the sport.
Preparing Form 
Ma Pu with extended Palms 
Side Fist the left and Right punch from Gong Pu
Right toe kick and left fist punch
Right palm punch from Gong Pu
Twist, Jump and Hammer fall on Ma Pu
Side punch to the flore while holding shoulder
Left elbow punch from Gong Pu
Right Forearm punch and Du Li Pu
Snake creeps down
Gathering hands
Right heel kick
Left fist punch from Gong Pu
Side Fist from the right
Gather hands from crouching stance
Closing 
Applications
Edit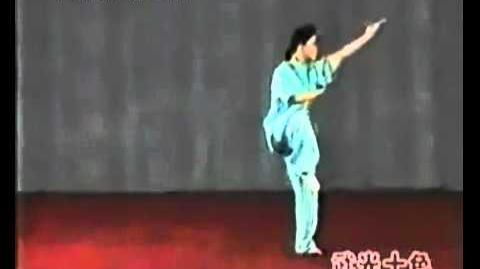 Ad blocker interference detected!
Wikia is a free-to-use site that makes money from advertising. We have a modified experience for viewers using ad blockers

Wikia is not accessible if you've made further modifications. Remove the custom ad blocker rule(s) and the page will load as expected.