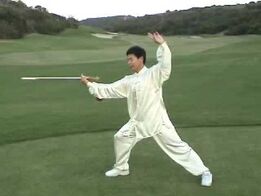 The 32-posture Taijijian Form of t'ai chi ch'uan/Taijiquan, is a basic version of Taijiquan composed of thirty-two movements to be practiced with the Jian, This Taolu it's the Basic one to learn in Wushu Tai chi with the Jian sword.
Movements
Edit
Commencing
Parrying in a Right Bow Stance
Parrying in a Left Bow Stance
Pushing the Boat with the Current
The Comet Chases the Moon
The Heavenly Horse Gallops Across the Sky
Lifting the Door Curtain
Left Wheeling Chop Into a Right Bow Stance
Right Wheeling Chop Into a Right Empty Stance
The Phoenix Spreads Its Wings
The Bee Enters the Hive
Holding the Moon
The Wind Sweeps the Plum Blossoms
The Compass Needle
Conclusion
Applications
Edit
Ad blocker interference detected!
Wikia is a free-to-use site that makes money from advertising. We have a modified experience for viewers using ad blockers

Wikia is not accessible if you've made further modifications. Remove the custom ad blocker rule(s) and the page will load as expected.