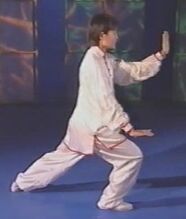 The Brush Knee and Step Forward
(左右搂膝拗步
Zuoyou Lōuxī Àobù
), is a relatively common posture found in t'ai chi ch'uan. Typically performed from 
Gong Bu stance
, mantains the forward hand at forehead/shoulder height while the lower hand remains below waist height.
Brush Knee and Step Forward is one of the first movements/postures learned by the beginners, due to it's simplicity.
The Movement follows the Tsai (Plucking) and You Pu (Right Step) techniques.
Applications
Edit
Ad blocker interference detected!
Wikia is a free-to-use site that makes money from advertising. We have a modified experience for viewers using ad blockers

Wikia is not accessible if you've made further modifications. Remove the custom ad blocker rule(s) and the page will load as expected.